Easy and cute crafts to make with fall leaves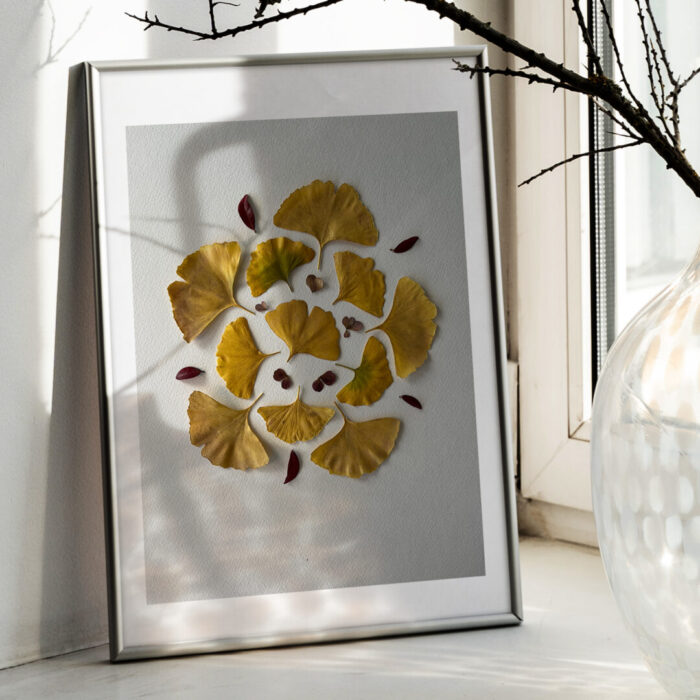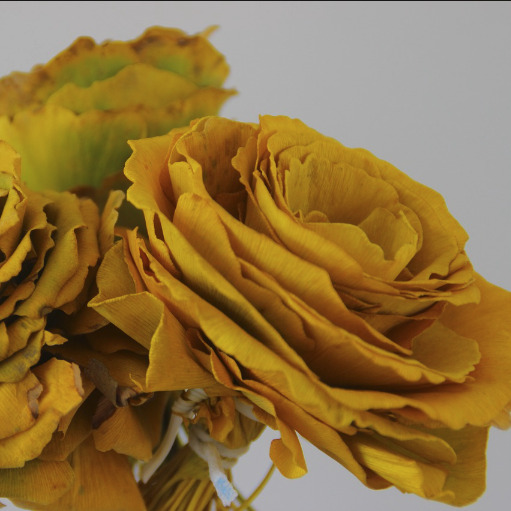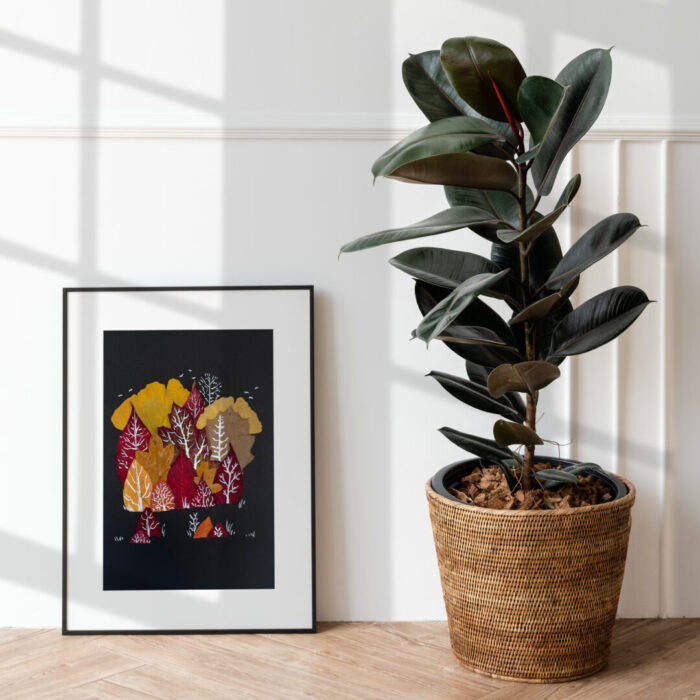 Preserve the colours of the season.
The days are getting shorter, temperatures are dropping, and the trees are turning gorgeous shades of yellows and reds.
It's time to collect beautiful fall leaves and elements from the fall nature, and use them for these cute and easy DIY projects. You'll enjoy the vibrant colours longer and display those crafts to brighten up your home.
Ginkgo butterflies
Ginkgo trees are very special. The species is so old that they are considered to be living fossils. The fan shape of their leaves is also very unique in the plant world. They turn the most beautiful yellow in the fall. Collect them as they fall, to use in these cute projects.
1.Make ginkgo leaf butterflies
This craft is easiest to make with fresh leaves that are more pliable. Look for leaves that are very symmetrical and have a long stem, for the best effect.
You can make both single-winged and double-winged butterflies. Follow our step-by-step video tutorial to learn how.
Ginkgo roses
2. Make a bouquet of ginkgo roses
If you have lots of ginkgo leaves to work with, these realistic roses are easy and quick to make and are a great fall table decoration. They look best when you make a few to bundle as a fall bouquet!
You can use double-sided tape or a glue stick to attach the petals together. We don't recommend liquid glue as it takes too long to dry. To make a rose that's nice and open, it's important to stick the petals together for the core. After the first five to six petals, start adding them one by one and adjusting the position of each one. Once watching the tutorial, you will understand the simple technique to make it look very natural.
We've also filmed a method to make the roses without double-sided tape or a glue stick. You can also just simply construct the rose in your hand and then tie tight a thread around the pedals. This way the rose is smaller but still looks cute in a bouquet.
Maple seed dragonflies
3. Make dragonflies from "helicopter seeds"
Meet this dragonfly family, made from the seeds of a maple tree, also known as the "helicopter seeds". Officially, they're called samara fruit. In this tutorial, we show you how to use glue to combine the seeds and a tiny stick to make adorable little dragonflies.
The easiest way is to use helicopter seeds that are still attached as a pair and ideally two little stems standing from the middle of them, which will give two legs for your dragonfly. Don't worry if you don't find the seeds with the stems, we show you a little trick to add them as well!
Did you know, drawing and crafting is a proven way to reduce stress and bring the mind into a calmer and clearer state?
Why don't you try drawing easy pattern on your leaves with a white marker? It gives the leaves a more modern edge and it's very relaxing to do.
If you have time, press the leaves between papers, under a stack of heavy books for a few days before starting. 
Pattern art
There's no better way to spend an autumn day than walking in the nature, collecting colourful treasures and turning them into art to decorate your home.
The first records of repetitive art patterns were created to decorate homes and temples and can be traced to 4000 BCE. Patterned wallpapers and decorative mosaics are also called "tessellations" which come from the Latin term tessera meaning a small, tile-like stone. Inspired by this old technique, we've made quick and easy examples for you. Use colorful fall leaves of all kinds, a piece of paper, and maybe a glue stick or a piece of tape if you want to frame your work later.
With the method below, it's also possible to craft without glue at all! Make the pattern on a flat surface, on the ground or on top of a large tree outdoors. The same leaves can be used for several different artworks! And after you've enjoyed it, take a picture to remember, and let your artwork compost back into the earth.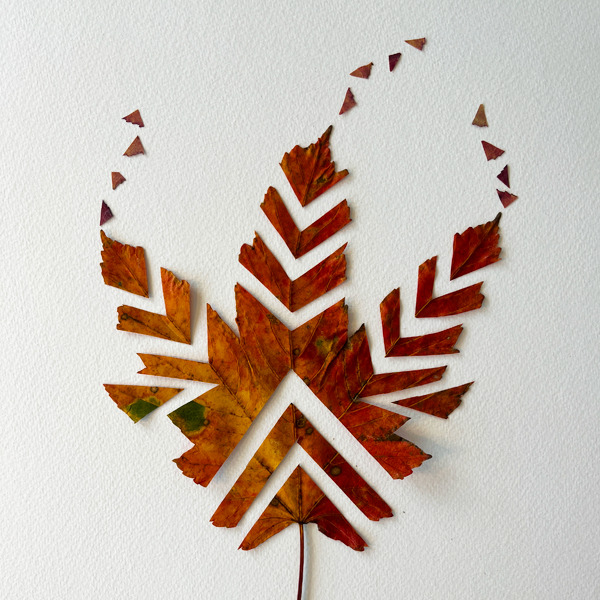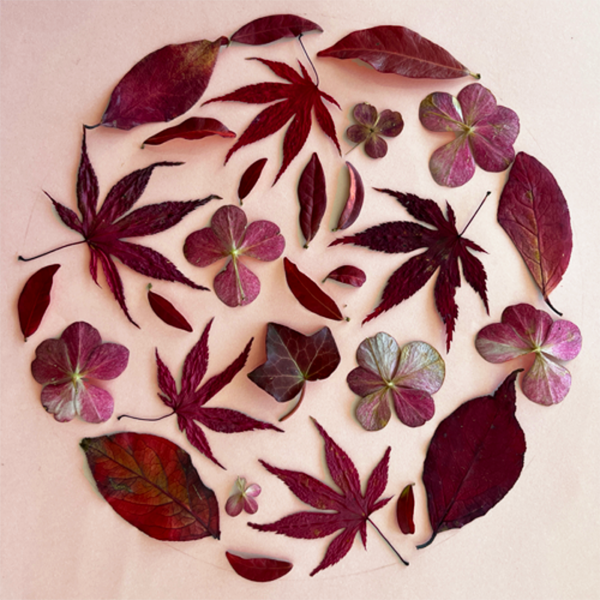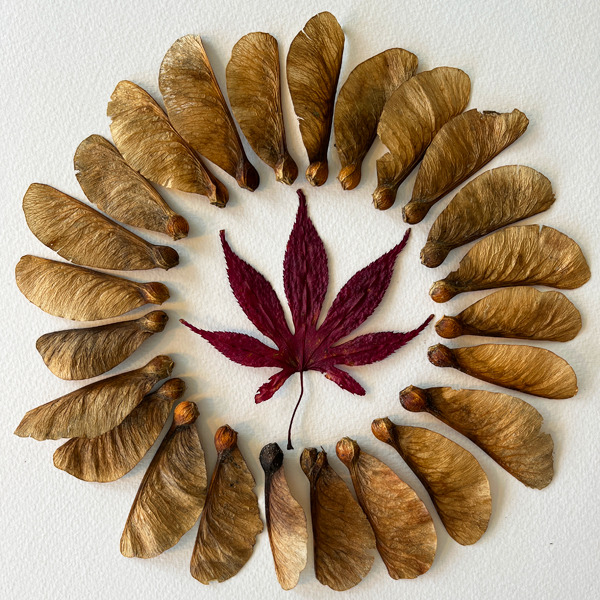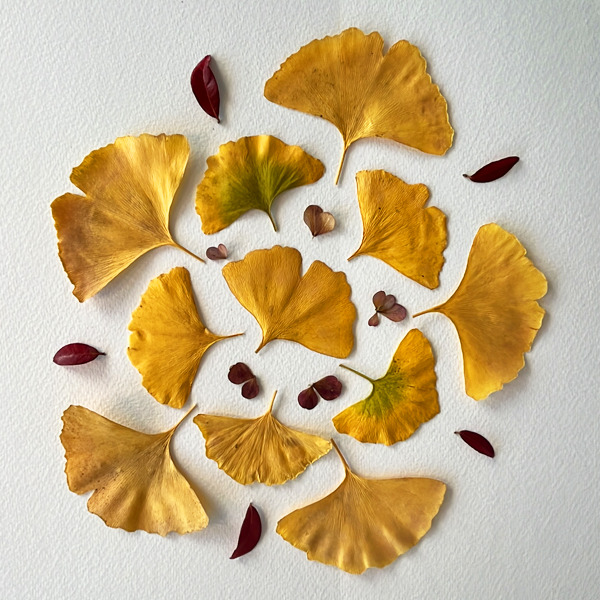 How are the leaf patterns made?
These artworks can be made with fresh leaves but if you want to frame your work, it is better to press and dry the leaves under books for a couple of days. To make a circle-shaped pattern, find a round object such as a large bowl or plate and lightly trace its outline onto the paper. This way it's easier to place the leaves into the wanted shape and your circle will be perfect. It can be helpful to stick the leaves onto the paper with a glue stick or a piece of tape, especially if you want to hang up the art on the wall afterward.
Be creative, and playful and create your own shapes and patterns, but most importantly enjoy the process!