Take a look at the artisanal production process of our beautiful cluster of grapes soaps.

Let's fly on the other side of the Mediterranean Sea!
Lebanon, located on the eastern coast of the Mediterranean Sea, is a country often overlooked but hides a treasure that offers breathtaking natural beauty and cultural diversity. They have an incredibly diverse landscape that ranges from snow-capped mountains to sandy beaches and green valleys.
One of the most striking features of Lebanon is the soaring peaks of the Mount Lebanon range that runs parallel to the coast. These gorgeous mountains are covered with cedar forests and dotted with villages that have remained nearly untouched for centuries. In the mountains or in the north, the country's land offers the perfect condition for growing high-quality olives. This is this exceptional olive oil that is used for making traditional handmade soaps.
What is an artisan soap?
Artisan soap is a special kind made by hand using all-natural ingredients. Skilled artisans use time-honored techniques and pay close attention to every detail when making these soaps. They don't use harsh chemicals, toxic fragrances, or preservatives like regular soaps do. Instead, they use plants, natural oils, or herbs, like for our bunch of grapes soaps. People love these soaps because they not only smell amazing but also moisturize and soothe the skin. Plus, they look great and add a unique touch to any bathroom, kitchen, or linen cupboard.
For a century, this family workshop in Lebanon has been producing traditional olive oil soap, passing down their skills through generations. They're proud of their cultural heritage and craftsmanship, which has led them to perfect their soap-making method. Their family recipe allows them to create a soap with a hydrating and nourishing texture, combined with a delicate aroma.
Soap maker in action

This is how the soaps are made in the traditional family workshop in Lebanon!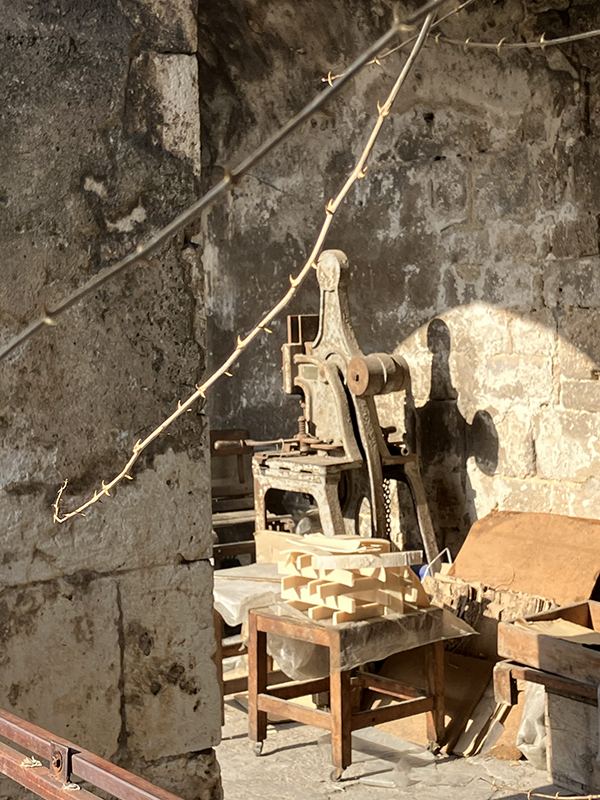 How is the soap made?
To make the soap even more special, we add plant power to the skills of Lebanese artisans. We use a simple, ancient recipe, and make each cluster of grapes by hand. The process starts with choosing high-quality, cold-pressed olive oil. Then, we combine it with sodium hydroxide (made from seawater) and water, which is then cooked to the right temperature in large pots.
After saponification, the soap is poured into wooden molds and left to cool and harden until the next day. Then, our expert soap makers manually roll each grape around a piece of rope. This creates a unique and decorative soap, that will delicately scent your home and your skin.
We're passionate about using only the best ingredients in our soaps. Our cluster of grapes soap is made of 100% cold-pressed olive oil and contains laurel essential oil. This ensures that each bar is of the highest caliber and will leave your skin feeling clean and moisturized.
The grape soaps are not only vegan but also free of harmful substances like phthalates, sulfates, and parabens. This makes them a safe and natural option for your hands and body.
What makes handcrafted soap better than commercial soap?
In recent years, more and more people have started using homemade soap for many reasons. One of the biggest benefits is that it can improve your skin health, as well as align with your values. These soaps are much gentler on your skin, reducing the risk of irritation or allergic reactions.
Furthermore, natural ingredients are typically more environmentally friendly. They don't contain harmful chemicals that can contaminate water supplies and harm aquatic life. By choosing homemade soap, you're not only doing your skin a favor, but you're also helping to protect the planet. Solid soaps are also more durable than liquid soap, which means that customers use fewer products overall. In addition, the packaging is often made from cardboard instead of plastic, which is better for the environment.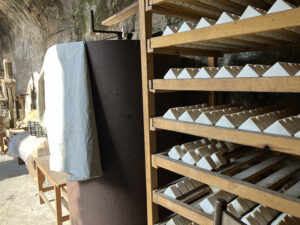 The production of homemade soap has a smaller environmental impact. The natural ingredients used in these soaps are frequently sourced locally from renewable resources, which means that they are sustainable and eco-friendly. By choosing handmade soap, you can not only improve your skin's health but also reduce your carbon footprint.
The main benefit of these soaps is their superior quality. Handmade soap producers take great care in the production process, using only the finest ingredients to create a product that is both functional and visually appealing. The attention to detail often results in a soap that is more nourishing, hydrating, and soothing than industrial alternatives.
Looking for a unique and meaningful gift?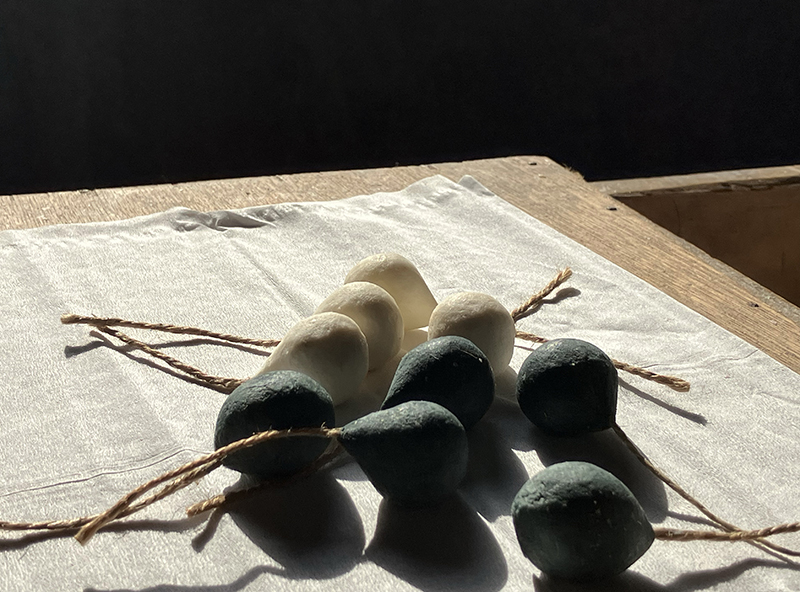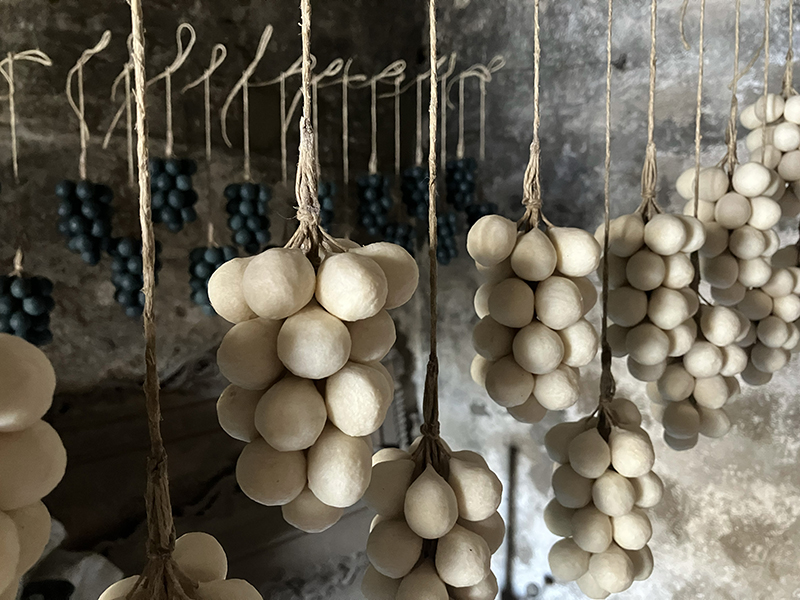 Look no further than our handmade soaps! These beautiful clusters of grapes soaps make for a lovely addition to any home, with their delicate scent and unique shape. It adds a touch of elegance and charm to any home decor, and the fact that it is handmade makes it even more special.
They are not only decorative soaps, but they also offer many benefits for the skin. They also make the perfect hostess gift for all your elegant friends. It's guaranteed to be a hit and will be treasured and enjoyed by the recipient.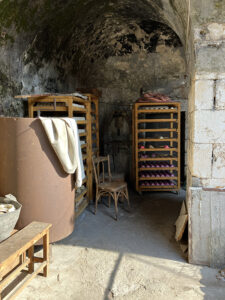 Why should you choose artisanal, handmade soaps over industrial soaps?
At Botanopia, we want to support craftsmanship and local producers. That's why we choose to collaborate with small family workshops for the production. Artisan soaps are made with premium ingredients and meticulous attention to detail, resulting in a higher quality product. Additionally, they're environmentally friendly and biodegradable, making them a perfect choice for those who prioritize sustainability.
By choosing to purchase our cluster of grapes soaps, you're not only getting a beautiful and unique product. You're also supporting our Lebanese soap makers and the help them pass down their traditions to the next generation.  So why not treat yourself or a loved one to the gift of handmade, beautiful grape soap?
Our Handcrafted Grapes Soap – 100% olive oil, available in 3 colors

These beautifully made soaps are crafted in the fun, appealing shape of a cluster of grapes. The gentle vegan soaps give your hands a smooth feeling after use and delicately perfume the room you keep them in.
The artisan soaps are available in three different colors: white, green and black. Because the grapes are handcrafted, they all look authentically different.
Buy now
You want more ideas of gifts?
These might interest you.